LATERALLY EXTENDED ENDOPELVIC RESECTION (LEER) AND RECONSTRUCTIVE TECHNIQUES FOR TREATMENT OF LOCALLY ADVANCED CERVIX CANCER: A CASE REPORT
ESTUDIO
Autores:
Antoni Llueca, Jose Luis Herraiz, Anna Boucher, Miguel Rodrigo, Anna Serra, Carmen Medina, Miriam Guijarro, Aroha Cañete, Yasmine Mazouzzi, Dolores Piquer, Jordan Barres, Stephan De Francia, Anna Gimeno, Carlos Ferrer, Javier Escrig.
The aim of this report is to describe the surgical procedure done in a 24-year-old woman who presents a locally advanced squamous cervix carcinoma and is proposed to laterally extended endopelvic resection (LEER), intraoperative radiation therapy with electrons (IORT) and urinary and colon diversion with vaginal reconstruction.
A year afer surgery the patient is alive, without disease and with and acceptable quality of life.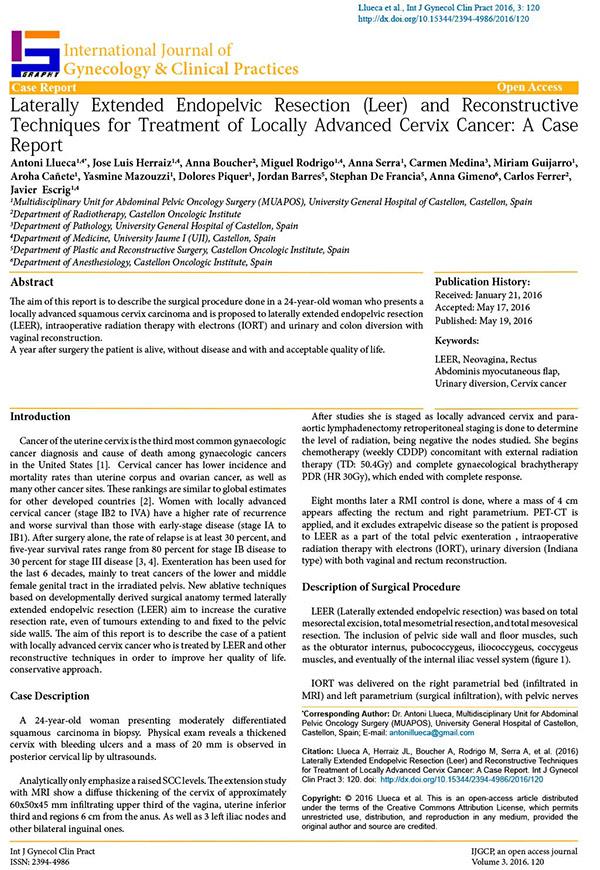 Cátedra Medtronic de Formación e Investigación Quirúrgica
Multidisciplinariedad en cirugía para un mejor resultado