SURGICAL TREATMENT OF PAGET'S DISEASE OF THE VULVA USING MOHS MICROGRAPHIC SURGERY, FOLLOWED BY VULVAR RECONSTRUCTION USING THE "LOTUS PETAL" SUPRAFASCIAL FLAP
CASE REPORT
Autores:
Antoni Llueca, José Luis Herráiz, Yasmine Maazouzi, Dolores Piquer, Carmen Medina, Ana Pitarch.
Abstract: Vulvar Paget's disease is an extramammary manifestation of Paget's disease, a cutaneous neoplasm that clinically appears as sharply defined erythematous plaques with irregular borders that usually affect apocrine gland-bearing skin.
Extramammary Paget's disease (EMPD) of the vulva can remain undiagnosed for years and could be associated with multifocal neoplasms. The current gold standard for the treatment of vulvar EMPD is surgical excision and the Mohs micrographic surgery is the preferred technique used in evaluating the margins of the specimen.
The reconstruction of the vulva using suprafascial flaps reduces hospitalization time and complications rate.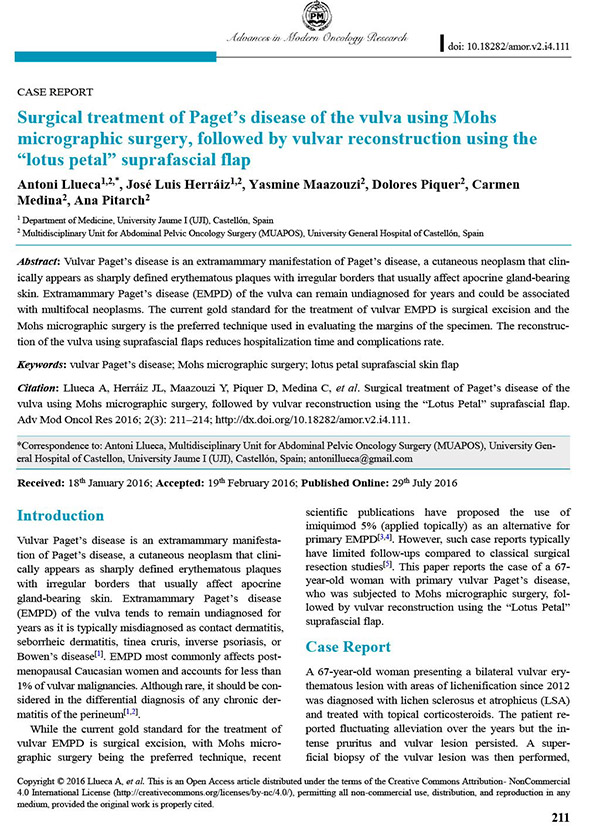 Cátedra Medtronic de Formación e Investigación Quirúrgica
Multidisciplinariedad en cirugía para un mejor resultado